13 August 2014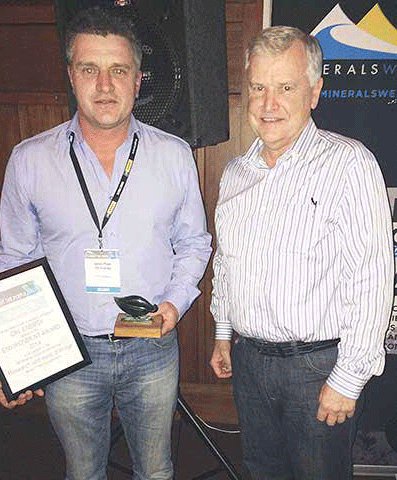 Dr James Pope, CRL Energy's South Island General Manager and CMER lead researcher of the prize-winning project (left), and Hugh Grey of the Minerals West Coast Trust.
A Centre for Minerals Environmental Research (CMER) programme successfully took out the big prize at the 2014 Minerals West Coast Environment Awards, announced at the Minerals West Coast's annual conference in Greymouth in late July.
CMER edged out OceanaGold's Reefton gold mine restoration project to take the award with their on-going long-running programme to prevent, minimise, or mitigate mining-related impacts on water quality and aquatic ecosystems downstream of mines. Research underpinning the decade-long programme involves geologists, geochemists, biologists, and environmental scientists at CRL Energy Ltd, Landcare Research, Canterbury University, and Otago University.
Research carried out in the programme includes answering what can be predicted about acid mine drainage (AMD) and how this can be used to improve mine planning; what the environmental impacts of mine drainages are on ecology; and, what management treatment and rehabilitation options are available, and how the best options are selected.
AMD occurs when sulfide-bearing minerals in rocks, when exposed to air and water by mining activity, break down to release acid that can mobilise trace elements such as arsenic, zinc, nickel, boron, copper and others from waste rock and tailings into ground and surface water. This can contaminate drinking water sources and have a harmful effect on plants and aquatic animals, even miles downstream from where the mining occurs.
Lead researcher, Dr James Pope, CRL Energy's South Island General Manager, says that New Zealand has a lot of endemic species, and that often the actions within our ecosystems are unique or unusual. "For example, in undisturbed stream environments about 95% of the aquatic invertebrates are only found in New Zealand, in addition these invertebrates are the critical link in the food web because New Zealand's native fish feed on invertebrates, rather than on plants or algae like fish in other parts of the world. Through concerted effort in the last 10 years we have a detailed understanding on how this highly endemic food web responds to the types of disturbance that minerals sector activity produces.
"We now have a very good understanding of the pH tolerance of our native fish. Species abundance and diversity of aquatic invertebrates in impacted and non-impacted streams has been developed into an index system for the assessment of stream health. Similarly algal species diversity can be used to indicate stream health."
The research consortium has or has had research sites to investigate best-practice methods to control AMD at several mines including Stockton, Globe, Bellevue, Roa, Echo, and Sullivan Mines – trialling both active and passive forms of AMD treatments. The team now run several passive treatment projects which focus on the use of waste products, such as mussel shells and wood waste, for mine drainage treatment in a novel and sometimes world-leading manner.
"Our work on the use of precipitates from neutralised mine drainages to adsorb arsenic and antimony is attracting international attention."
Several international research groups have visited the sites to examine the best-practice or novel methods. In addition to these treatment sites the team has also sampled other sites widely distributed throughout the New Zealand to add to the geochemical and water quality databases.
At the awards ceremony, Minerals West Coast manager Peter O'Sullivan said CMER had showcased the advances being made in predicting and managing the environmental effects of mining. "Mining today has to be environmentally responsible, both during mining operations and long after mining is finished. That is what New Zealanders expect, and that is what is being increasingly delivered."
Over the years, the project has produced more than 40 peer-reviewed scientific publications, over 60 conference publications, and around a dozen student theses.
The research programme is funded by the Ministry of Business, Innovation and Employment and in 2011 and 2012 was rated in the top 3% of some 180 MBIE-funded research projects for achievement and delivery of applied science to end users.
A governance panel including Regional Councils, Department of Conservation, mining companies, and minerals sector associations provides guidance on project direction, field sites, and output styles and disseminates the research back into their organisations.
The Mine Drainage Framework, to assist mining operations with planning of future New Zealand mine developments, can be found on the CMER website.